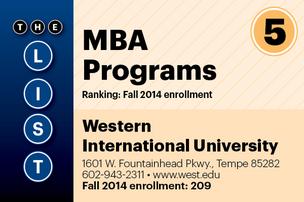 Sometimes there are decisions in life you don't want to complain about: Whether to vacation in the Bahamas or the Florida Keys, for example, or whether to buy a Mercedes or a Lexus.
Sure, life could be worse. But that doesn't make the decision any less anxiety-inducing.
Students who get into the top MBA programs in the world find themselves in a similar predicament. Do they want to rub shoulders with Wall Street types at the University of Pennsylvania's Wharton School or make international connections over croissants at France's INSEAD Business School?
The top MBA programs on either side of the Atlantic differ in various ways, experts say. And prospective students should consider a variety of factors before they choose a top U.S. MBA program or an equally well-regarded program in Europe or beyond.
The first thing students should consider when choosing between a top-tier U.S. or non-U.S. MBA program are the academic components, says Rachel Beck, a senior consultant at mbaMission, an MBA admissions consulting firm. While some programs have a general focus, others are known for their specialties. She suggests prospective students go through course catalogs to make sure they find a roster of classes of interest.
Students should also think about what industry they would like to be in, and whether their school has connections to that field.
Applicants drawn to business innovation and startup culture may be good fits for the graduate business programs at schools such as Stanford University, University of California—Berkeley and Massachusetts Institute of Technology, says Matt Symonds, co-director of the MBA admissions consulting firm Fortuna Admissions.
At the same time, students hoping to enter careers in private equity may want to choose a program at places like Wharton, Columbia University or University of Chicago.
A person's ideal location after graduation should also be a factor in the MBA decision, Beck says.
Students who want to work in a specific part of the world should make sure they attend a school with a solid track record of sending graduates to those countries, she says. A quick way to do that is to conduct an Internet search for the schools' employment reports. A search for the employment report at the London Business School, for example, shows that 45 percent of graduates remained in the United Kingdom after graduating in 2013.