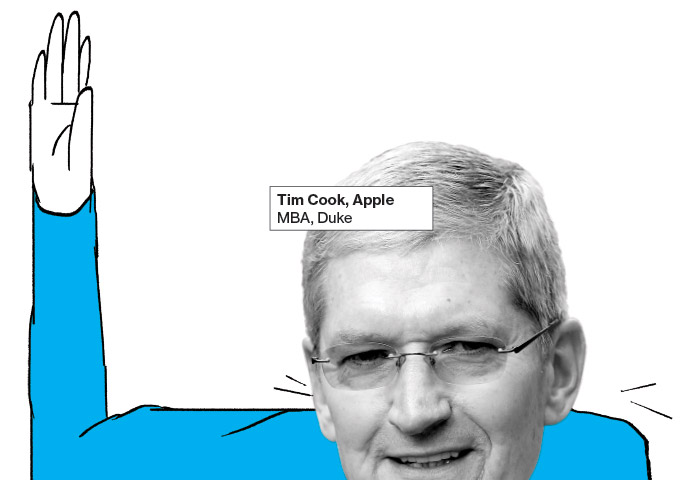 PayPal co-founder Peter Thiel said MBAs are predisposed to "herdlike thinking and behavior." Venture capitalist Marc Andreessen dubbed them a contrarian indicator, saying "if they want to go into tech, that means a bubble is forming." In a post on the question-and-answer website Quora, Facebook Chief Operating Officer Sheryl Sandberg, who earned an MBA from Harvard in 1995, said that while she got "great value" from her experience, she wasn't ready to recommend the degree to the country's future tech stars. "MBAs are not necessary at Facebook and I don't believe they are important for working in the tech industry," Sandberg wrote.
Silicon Valley's trash talking of the MBA obscures the reality that U.S. tech companies are hiring B-school grads in ever-larger numbers. Business schools sent 16 percent of their 2015 graduates into technology jobs, according to a Bloomberg Businessweek survey of students who'd accepted offers by that spring, making it the No. 3 industry for MBA grads after finance and consulting.
By one measure, Silicon Valley values MBAs more than Wall Street does. In 2015 tech companies paid business school graduates more than financial companies did, according to Businessweek's poll of more than 9,000 MBAs. "If I said all people with a law degree are worthless, what would you say?" says Rich Lyons, dean at the University of California at Berkeley's Haas School of Business. Forty-three percent of its 2015 class went into tech, according to the survey. "It's such an unwarranted generalization. Firms wouldn't keep coming back to hire our MBAs if it wasn't a valuable skill set."
Amazon.com, Microsoft, Google, and IBM were among the 15 companies that hired the most MBAs in 2015, according to data reported by 103 business schools to Businessweek, proof that while the founders and chiefs of some of the top U.S. tech companies may see themselves as renegades, they're not above hiring trained managers to carry out their vision...